BECOME A MEMBER
Experience the sea in an easy way
Our aim is to promote the sailing world as a sport and as a lifestyle, so that anyone who wants to experience the sea from any of our specialities, and live an unforgettable experience!
To be able to go out to the water you will have to process the annual federation license (insurance) at the reception of the club.
It has a cost of 35 € and is valid until December 31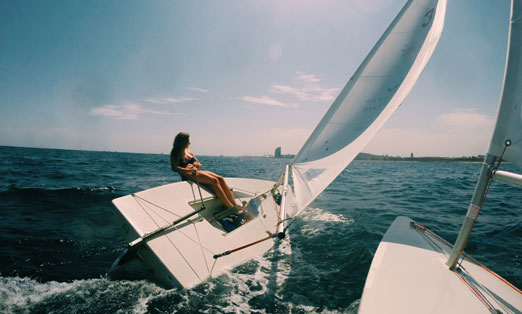 Fleet membership
Do you know how to sail? We will lend you our equipment!
Become a member of Sailing Barcelona and you will be able to sail with our boats at a reduced price! We offer Laser, Laser Vago, Laser Pico, Raquero, Catamaran, Windsurf and Sea Scape.
You will have to take a skills test. If you have taken training courses with us this test won't be necessary, as the instructor will give you access to Fleet Membership.
Just sail!
Boat storage
If you have a Sailboat, Windsurf, Catamaran, Kayak or Paddle Surf we have a space for you.
We have space to keep your boat, direct access to the sea (Through the port or down our own ramp with direct access to the sea to facilitate the departure of both sailboats and windsurfs)
We also offer all the services you may need: hose, changing rooms, lockers...
Keep your boat next to the sea and you won't have any excuse not to sail!